Alan's Early Years

The Pfeffers functioned at a lower middle-class standard of living, less out of actual economic need, but mostly due to Alan's father's frugality, born of his upbringing in extreme poverty. The family lived in a tiny working class apartment, without toilet or running water and went to the public baths once a week, but there was always plenty of good food and clothing.
Alan's Parents
As a teenager, Alan's future included completing his studies for his high school diploma. Beyond that there was a tacit expectation that he would enter his father's business as a cabinet maker, or perhaps that he would continue his studies at the Technical University in Vienna, however, there was no real discussion of this among the family. Alan's father did not have a formal education beyond his craft and business skills, but his mother was better educated and was exposed to the world of the classics and music. Alan himself was encouraged to read a great deal, and attend the theater and opera. He also received private English lessons in addition to the French and Latin he took at school.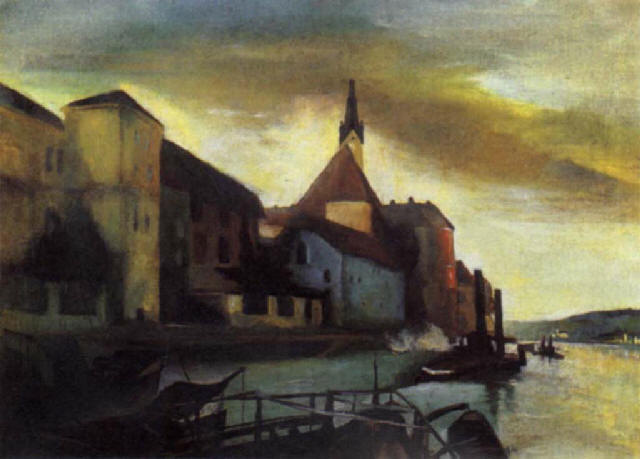 Ybbs an der Donau interpreted through an 1934 oil painting by Maria Gruber-Wurfel
My family had a clearly Jewish identification, but was anything but religious. On my mother's side we were thoroughly assimilated, my mother's mother being a country girl, born in Ybbs an der Donau. She came to Vienna in 1876 at the age of 18. My mother and her siblings were very Viennese and none ever went to a synagogue. My father, however, hailed from what was then Tsarist Russia, Janow, now in Eastern Poland. He left Janow to avoid the lengthy compulsory military service. He came to Vienna in 1914 on his way to America, and liked it well enough to stay. He spoke accented German and there was no doubt about his identity. He, like many of his generation, rejected the Jewish religion on political grounds.
Alan's maternal grandmother

Being politically conscious, we were very much aware of the situation in Nazi Germany. We knew about the concentration camps of that era and the brutality of the regime. There were some parallels in Austria, which however were not as threatening to us as Jews. We did not imagine that Hitler's Germany would expand in the manner later experienced. We believed that the Western powers and Mussolini would not permit it.

One was less stunned by the suddenness of the terror, of which I was probably less aware than of the humiliation and degradation suffered by many Jews in Vienna in the early weeks of the Nazi take over. Much more distressing was the seemingly complete turn about by so many Austrians who, but a few days earlier, were as enthusiastic for a free and independent Austria as they were now for the Anschluss.